How many times have we parents heard the phrase...I'm moving out? Or maybe I should say...how many times did you say...I can't wait till I move out! And now you are out...on your own.
I have 3 kids that have just moved out in recent months and in my years of decorating and re-decorating, I have learned a few things along the way.
I have always been one to constantly move my furniture and change things around. Oh boy, when I did not have a J.O.B., I came up with more looks in a room than one could blink an eye at and I had a great time doing it. It felt so refreshing to me. On the days I felt like I really needed to clean my house...guess what, furniture and stuff would be moved to a different area and we'd call it done for the day. I remember when we were just starting out, parents and "older" people would say, "these kids today think they have to have the best when they start out. And then they would continue to say, back when I was growing up, all we had was milk crates for chairs.....yadayadayada, you know how it goes. So I guess they used milk crates for chairs and tables.!? Maybe I can show you...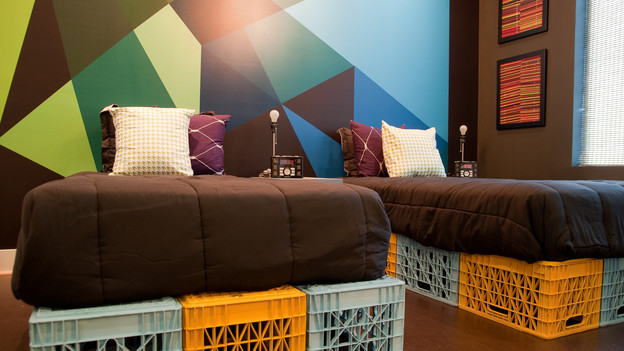 (Wait a minute, this one doesn't count, it's kinda cute.)
These are really cute too. I think I need to move on. I'm not proving my point to good here. Milk crates aren't what they use to be.
Anyway, now that I am one of those "older" people, I say...when your starting out, buy one good piece at a time.
Of course, if you can take your bed and bedroom furniture with you when you move out for the first time, even better. If you can't, it seems to me the most logical thing to do is buy a good mattress and box springs with a headboard (if in fact you do want a headboard) then fill in the spaces with a dresser, mirror, chair, etc. Keep in mind, quality counts, but make no mistake, I remember how the dollar had to stretch back in those days. (it still does come to think of it). Anyway, there are great places to shop to get these things on a budget.
Don't rule out thrift store shopping. You can find
solid furniture
at some of these places and give it a fresh coat of paint with new hardware and you've got a new to you dresser with out the high sticker shock. This looks like the bottom piece to an old hutch and is redone so cute.
A re-freshed chair for seating, maybe for your desk can easily be done and look super cute with a fun fabric on the cushion.

There are so many things you can find at bargain prices if your up for the hunt and willing to put a little elbow grease into it. I could go on and on about ways to furnish your room on a budget whether with thrift store or flea market finds but I'll leave you with an inspirational photo.
This
room
could easily be done on thrift store finds...
* large dresser or bottom piece of a hutch (for storage) painted yellow
*large mirror painted white (You could even make it scrolley to add a more feminine flair)
*Vintage lamp and shade
*for the curtains you could use sheets
*prints for your walls can be found on the cheap. Look for prints with at least a couple of the colors your using in your room. As far as the frames, you can find some that are wood and paint them. Or find old frames, paint them, get a white mat and use a fabric for your print.
*The bed/couch could be a bed pushed against a wall with pillows along the back side to where it looks like a couch by day and useful as a bed by night. Find a solid grey comforter and keep your eye out for a fun throw to put on it. Sometimes you can find these at stores on sale or Ikea would be a great place to look.
* the rug you might also find at Ikea if you aren't willing to wait and hunt at thrift stores.

(If I were doing a room like this, I would add a bit more frill to it with a pretty chandelier and a piece or two of pretty glass or crystal. But that's just me.) Adding your own spin or personality makes this space yours.
I'll be honest. This room is complete with the grey walls. But if your living in an apartment, you probably can't paint. There are other options...stick on wall paper, large canvases covered in fabric etc. One day I'll do a post on those kind of things too.

Happy hunting!